Fresh Flowers on a Cake? Yes, Please!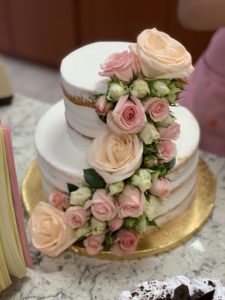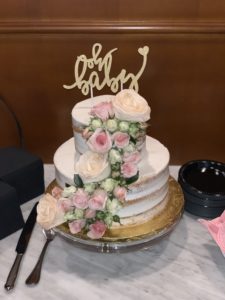 There is something about fresh flowers on a cake that really makes a statement.  An elegant decorating solution, fresh flowers add extra pizazz setting your creation apart from others. Whether you are a self-professed baker or exceptionally talented at ordering from your local bakery, any cake can go from boring to beautiful with a few fresh flowers.
Of course, not all flowers are edible and you need to keep this in mind should any part of the flower come into contact with the cake. While we are suggesting fresh flowers for decorating purposes only, a nonedible flower touching the cake could make someone sick. A good rule of thumb is to use wax paper between the cake and the flower to avoid contact. Secure the flower with a dab of icing on top of the wax paper. Of course the Internet is loaded with information on this subject, so we have chosen some of the more important points to share with our readers…
Flowers are a timeless symbol of beauty and are safe to use on a cake provided that they have been properly selected and prepped. Always wash your flowers in cool water and allow dry time on a paper towel. Remove as much greenery as possible. While it is not recommended to insert a flower stem directly into a cake, floral tape around the stem acts as a good barrier between the flower and the cake. Cut the stems as short as possible (2 inches) and soak stems in water before placing. Keep in mind that most flowers don't last after being cut. Consider using water tubes (can be purchased from your local florist) to keep flowers hydrated, or better yet, cut and place flowers right before serving.
Still up for the challenge? Good! Blooms by Vickrey has an abundant selection from which to choose and we are happy to work with you to create the vision that you wish to achieve.  Throwing in the towel? That's okay, Blooms by Vickrey can deliver your flowers directly to the bakery of your choice. Either way, you come out smelling like a rose!