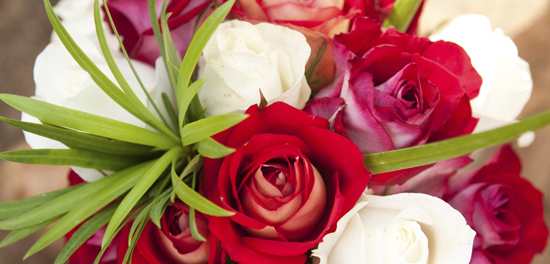 Testimonials
Putting the Wow in Flowers
"We just wanted to say thank you for working with us to elevate the 2018 Luminary Awards Luncheon yet again.  The flowers were a perfect addition to the tables and they made the room look amazing.  I really enjoyed working with you and we appreciate your support of the West Shore Chamber."  — KRYSTIN B.
"Please accept this note as a genuine thank you to Sue K. for the absolutely stunning bouquet she arranged for my birthday.  Glorious, artistic, exquisite, unique, outstanding; all my favs.  You are truly gifted at composition and arrangement.  I appreciate your talent and the many WOW moments that you have given me.  Your delivery team has always been courteous and personable, as well.  Thank you again"   — ROSEANN C.
"Thank you so much for your continued support for the Donald J. Edwards, Jr. Memorial Fund (DEMF).  Your generous donation enables us to raise awareness of melanoma and continue our efforts in sun safety." — SANDY M.
"I wanted to let you know that the flowers were perfect; absolutely beautiful and smelled wonderful!  Thank you so much for your assistance this year." — LYNETTE M., GENERAL SURGERY RESIDENCY COORDINATOR, UPMC PINNACLE HEALTH SYSTEM
"Thank you so much for your floral donation; it was beautiful.  The fundraiser was a wonderful way to celebrate Tom's birthday while raising money for the American Foundation for Suicide Prevention." — RENEE S.
"Thank you so much for coming to Open Stage of Harrisburg's rescue as we had to transform the Scottish Rite Cathedral into a garden paradise.  The items from your shop (along with your suggestions) were key to accomplishing the task.  I'll never forget your words, 'I'll be there in 15 minutes;' it was music to my ears.  Again, many thanks. — ABBY T.
"The centerpieces were lovely and [they] were a big hit with the guests; even the men commented on how unusual they were.  The baby carriages were literally the center of attention and everyone asked who had done the flowers." — LOUISA
"Thank you for providing the beautiful arrangements for our Jazz, Wine and Chocolate Pairing in August.  Everyone who attended commented on how they added so much to our event.  Additionally, I check in on weddings just to make sure all is going well.  Recently, two of them had their arrangements done by Blooms by Vickrey; they were magnificent." — JUDITH IMLER, PRESIDENT, THE CIVIC CLUB OF HARRISBURG
"The floral arrangements that you and your team created were magical and brought the vision for our wedding to life; it would not have been the same without them.  My mother-in-law's additions to my bouquet were such a lovely surprise.  Thank you for working with her to accomplish that; it meant so much to me.  Additionally, I want to tell you how wonderful it was to work with you.  You took every one of my ideas, additions and neuroses in stride.  You went above and beyond in making sure that the arrangements for my parent's house were pet-safe.  From the bottom of our hearts, thank you.  We will certainly be recommending Blooms by Vickrey to our friends and I know that you haven't seen the last of my mom!" — JONAS & KATY
"Thank you Blooms for supporting our show!" — KATHRYN, STUDENT, PENNSYLVANIA BALLET ACADEMY
"On behalf of the Central Pennsylvania Animal Alliance (CPAA), thank you so much for making the beautiful flower arrangements for Compassion with Fashion 2017.  We are very grateful for your ongoing support and generosity.  The arrangements were absolutely gorgeous!" — ZELLA SMITH ANDERSON, ESQ., FOUNDER AND DIRECTOR, CENTRAL PENNSYLVANIA                  ANIMAL ALLIANCE
"We are so appreciative of your continued support of Central Pennsylvania Youth Ballet.  Because of your support, productions like June Series are able to give our students an opportunity to showcase their talents and dazzle audiences through a beautiful performance.  For all that you do for us…THANK YOU for your friendship and partnership!" — BRIGETTE PLUMMER, CENTRAL PENNSYLVANIA YOUTH BALLET
"Please pass along to your team – and certainly Mark – that we are so appreciative of your support.  The arrangements were absolutely beautiful; our volunteers loved them!  Thanks again for all that you do for us."  — TERRI BOWLING, OUTREACH AND EDUCATION COORDINATOR / CHILD GRIEF SPECIALIST, HIGHMARK CARING PLACE
"I would like to thank you for the support that you gave to bring my flowers – spring beauty project to life.  It is exciting to have such a wonderful neighbor whose 'little piece of heaven' store lifts your spirit as soon as you enter.  My very best wishes.  — CARMINA-CRISTINA, CARMINA-CRISTINA MAKEUP BOUTIQUE 
"This is long overdue!  Thank you very much for the beautiful flowers that you did for my daughter, Tammy.  Your flowers are the best that I have ever seen.  Every week you hear members of the congregation commenting on how beautiful they are.  Thank you again.  — CONNIE, SHIREMANSTOWN CHURCH OF GOD
"We wanted to thank you for providing the most GORGEOUS floral designs for the Dream Weddings Styled Inspiration photo shoot at the Booking House yesterday.  Everything was beautiful and ran so smoothly.  The fall edition of the magazine is going to be amazing!" — MEGAN TEARNEY, DIR. OF BUSINESS DEVELOPMENT / SENIOR EDITOR, DREAM WEDDINGS
"Thank you for your keen eye and devotion that you gave me in creating spectacular arrangements for us at Winding Hill (Messiah's Grad School). I look forward to working with you again in the future." — JULIE
"I can't let another day go by without letting you know how grateful we are for having you as our floral vendor. One of our patients sent us a note thanking us for 'the absolutely gorgeous flower arrangement that not only elevated his spirits and beautified his room, but also elicited compliments (oohs and aahs!) from everyone who entered his room.' Another person, who sent us a picture of an arrangement that you designed and delivered from us, commented, 'absolutely stunning!' Our thanks to your friendly and very creative staff; we appreciate all that you do!"  — DIANE F., PINNACLE HEALTH SYSTEM 
"Thank you so much for making our wedding flowers amazing!  Everything was beautiful and you did a fantastic job."  — JENN & JARED
"Thank you for the incredible work you put into our wedding day.  All of the arrangements were stunning and literally took our breath away.  Thanks again."  — ZACH & COURTNEY
"Thank you for the GORGEOUS centerpieces. They were the most beautiful centerpieces I have ever seen and all of our guests absolutely loved them. Thank you also for being so easy to work with. We will certainly recommend you to anyone we know who is planning a wedding."  — JULIE & SEAN
"On behalf of the membership of West Shore Country Club, thank you for the wonderful holiday decorations. Your efforts have drawn rave reviews from our members and guests."  — RALPH K.
"We want to express our appreciation and admiration for the gorgeous flowers that you created for Rick's 80th birthday party. The topiaries were so clever and beautiful. The red rose arrangements were stunning. We heard so many positive comments from our guests. The flowers were a major part of the spectacular effect for the event. Thank you for making our special event even more special."  — JOANNE & RICK
"Thank you so much for the beautiful flowers for the wedding. I know it was last minute, and if I had a year to plan I couldn't have been happier."  — BETH W.
"Thank you, thank you. What a beautiful event highlighted by the flowers. The color and style made the setting everything I wanted it to be, and you were able to bring it to life with your vision and creativity. You really outdid yourself. The evening was a great success and the comments on the arrangements were all wonderful."  — JO R.
"Thank you for making our Bat Mitzvah party so special! The luncheon centerpieces and the party bouquets were BEAUTIFUL and so many people raved about your talent. Thank you!!" — DANA K.
"I won a gift certificate to your shop at a bridal show and decided to use it for my bridal bouquet. Ours was supposed to be a sort of do- it- yourself wedding, so I was excited to have that detail handled by professionals. I wasn't entirely sure what I wanted, but after getting a chance to sit down and answer some questions about our own theme and colors, as well as peruse some of the pictures of your own work, I knew the task was in good hands. I was absolutely delighted with the bouquet you put together! It was gorgeous, and the compliments were countless! Thank you so very much!" — CAITLIN C.
"Thank you so much for the bouquets and wedding day flowers. They were absolutely beautiful and more than what I had expected. I actually cried when I saw my bouquet; that's when the wedding and the day became real for me. Thank you for making it so special." — AMANDA C.