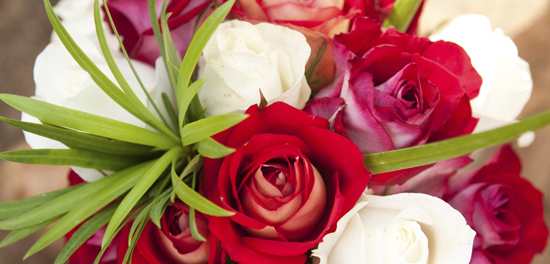 Testimonials
Putting the Wow in Flowers
"I wanted to take a moment to say how incredibly thankful I am for you and your company. Last week we were left disappointed by another florist who didn't come through with an order for our neighbor who was celebrating their daughter's first birthday. The baby had passed away at three weeks and we were trying to brighten their day with flowers. Needless to say, we placed a last-minute order, and you delivered. THANK YOU! I know that this is an incredibly busy time of year, so we appreciate the time taken to care for this beautiful arrangement." — AMY H.
"I wanted to take a minute to say how pleased I am with the arrangement. Although it was addressed to my wife, it was for the passing of my pup, Roscoe. Every time I look at it, I am reminded of him. It is still as beautiful as the day that it was received." — JON B.
"A heartfelt thank you to everyone who was involved with creating the beautiful cake topper for my parent's 68th anniversary. The arrangement was beautifully crafted and the ribbons selected to adorn the base of the cake were the perfect complement. A special thank you for the extra flowers you provided – my parents were delighted by what you chose." — LISA C.
"We can't thank you enough for the beautiful flowers that you prepared for our wedding ceremony this past June. You have been wonderful to work with." — ASHLEY S., BRIDE
"WOW! The recipient sent a photo of the arrangement to the staff; spectacular! Thank you! — DOLORES M., DIR OF PATIENT ADVOCACY, PA BREAST CANCER COALITION
"Everything was FABULOUS! Everyone loved them and were surprised and appreciative. You do amazing work and I look forward to working with you again soon." — ALYSSA R., SENIOR EVENT PLANNER – CORPORATE EVENTS AND OPERATIONS, D & H DISTRIBUTING, HARRISBURG 
"The centerpiece is absolutely gorgeous! Oh my word, I LOVE it. Everyone keeps saying how beautiful it is. I think that I might have to order flowers for myself from you throughout the year." — JODIE H., VFW AUXILIARY, DEPT OF PA
"I had the most lovely experience yesterday buying a dozen roses for my partner's birthday. I wish I had caught the lady's name that worked with me so that I could recognize her here. She was very helpful in selecting the perfect vase, and arranged the most beautiful rendition of the classic rose bouquet. I loved how she spoke about her family; and how wonderfully everyone worked together when consulting about the best local shop to find a greeting card. Thank you Blooms by Vickrey! I'll be back!" — ALAINNA G.
"Thank you for making this day unforgettable; your service was truly exceptional. Working with you was so easy and you made sure that everything fit our comfort level and our needs.  Thank you again. — JIM & SOPHIA N. 
"The Shoe Strut centerpieces were SO nice; everyone loved them. We are truly grateful for you [Blooms by Vickrey] providing the centerpieces again this year. — CINDY M., SPECIAL EVENTS & COMMUNICATIONS COORDINATOR, THE SALVATION ARMY CAPITAL CITY REGION
"Thank you so much for the [cake] flowers; they were exactly what I had hoped for.  I will definitely be recommending you to others.  Thanks again." — STEPHANIE P.
"They [centerpieces] were absolutely amazingly beautiful! It turned out so pretty and the color scheme worked perfectly. The name tags [adorned with fresh flowers] were so cute as well." — ANGIE SHILEY, MSW, MA, VOLUNTEER SERVICES COORDINATOR / CHILD GRIEF SPECIALIST, HIGHMARK CARING PLACE, CENTRAL PA
"The family was over the top pleased with the event and VERY happy with the flowers and décor.  Sorry that I didn't see you all before you left yesterday to say a huge 'THANK YOU!' It was wonderful working with you, and I look forward to it again in the future." — DAVID COLE SNOOK, OWNER/LEAD PLANNER, MX2 EVENT DESIGN
"I met Sue at the Liberty Forge open house and booked her for my April 2019 wedding soon after. She is a wonderful woman who has an eye for beautiful blooms and can work with any budget. I was planning my wedding from a distance and mostly communicated with Sue via email and an occasional visit. Our bouquets were full and lovely and the flower girls had more than enough rose petals to scatter down the aisle. I couldn't have been happier with the flowers and I would recommend Blooms by Vickrey to anyone. — MEGAN DAWN F.
"They [centerpieces] were amazing; I loved, loved, loved them! Thanks again." — JANET A., A GIFT OF SMILES
"We used Blooms for our wedding and were absolutely thrilled. We had a beer-themed wedding and requested to have hops incorporated into the design; it was awesome. While we did our own centerpieces, Mark and his staff put together two beautiful arrangements that were fitted into barrels and used as part of the arbor. They were exactly what we had pictured – if not better. Hops also was incorporated into the boutonnieres and my bouquet. They were punctual the day of the wedding and efficiently set everything up. I also was happy that the bouquets arrived in water because it prevented wilting before the ceremony and pictures. They even stayed beautiful throughout the evening and the days to follow. Everything was perfect and I wouldn't have had them change a thing.  Great to work with! — LIZ V.
"If you have not had Blooms by Vickrey make an arrangement for you yet, YOU NEED TO! Everything that they do is beyond amazing. The owner is friendly, funny and enthusiastic. I absolutely love going [into the shop] and seeing what new and unique creations that they can make." — MIKAELA von K.
"Dear Blooms, You were right; the flowers were, as you said, gorgeous, and were especially meaningful to a totally disabled woman.  Thank you." — BILL M.
"The flowers for my wedding were absolutely amazing.  I'll admit that I was nervous when I was told that the blooming branches that I had originally wanted were out-of-season.  However, I put my faith in Sue and I am so glad that I did.  The centerpieces were stunning!  I had many compliments and I was sure to pass along your name to everyone who asked.  Everything turned out better than I could have imagined and I didn't have to worry about anything.  I loved, loved, loved the flowers and you did a phenomenal job.  Thank you so much for everything." — LAURA C.
"Thank you for a job well done!  The bride, groom and their families and guests loved the flowers and the beautiful accent that they provided to the bridal party and Stocks Manor.  Many, many compliments.  It was a pleasure to work with you to make their dream wedding a reality.  It was an awesome day and celebration… and we really did dance the night away.  So much fun! — KIM L.
"Please accept this note as a genuine thank you to Sue K. for the absolutely stunning bouquet she arranged for my birthday.  Glorious, artistic, exquisite, unique, outstanding; all my favs.  You are truly gifted at composition and arrangement.  I appreciate your talent and the many WOW moments that you have given me.  Your delivery team has always been courteous and personable, as well.  Thank you again"   — ROSEANN C.
"Thank you so much for your continued support for the Donald J. Edwards, Jr. Memorial Fund (DEMF).  Your generous donation enables us to raise awareness of melanoma and continue our efforts in sun safety." — SANDY M.
"I wanted to let you know that the flowers were perfect; absolutely beautiful and smelled wonderful!  Thank you so much for your assistance this year." — LYNETTE M., GENERAL SURGERY RESIDENCY COORDINATOR, UPMC PINNACLE HEALTH SYSTEM
"Thank you so much for your floral donation; it was beautiful.  The fundraiser was a wonderful way to celebrate Tom's birthday while raising money for the American Foundation for Suicide Prevention." — RENEE S.
"We are so appreciative of your continued support of Central Pennsylvania Youth Ballet.  Because of your support, productions like June Series are able to give our students an opportunity to showcase their talents and dazzle audiences through a beautiful performance.  For all that you do for us…THANK YOU for your friendship and partnership!" — BRIGETTE P., CENTRAL PENNSYLVANIA YOUTH BALLET
"Please pass along to your team – and certainly Mark – that we are so appreciative of your support.  The arrangements were absolutely beautiful; our volunteers loved them!  Thanks again for all that you do for us."  — TERRI BOWLING, OUTREACH AND EDUCATION COORDINATOR / CHILD GRIEF SPECIALIST, HIGHMARK CARING PLACE
"I would like to thank you for the support that you gave to bring my flowers – spring beauty project to life.  It is exciting to have such a wonderful neighbor whose 'little piece of heaven' store lifts your spirit as soon as you enter.  My very best wishes.  — CARMINA-CRISTINA, CARMINA-CRISTINA MAKEUP BOUTIQUE 
"This is long overdue!  Thank you very much for the beautiful flowers that you did for my daughter, Tammy.  Your flowers are the best that I have ever seen.  Every week you hear members of the congregation commenting on how beautiful they are.  Thank you again.  — CONNIE, SHIREMANSTOWN CHURCH OF GOD
"I can't let another day go by without letting you know how grateful we are for having you as our floral vendor. One of our patients sent us a note thanking us for 'the absolutely gorgeous flower arrangement that not only elevated his spirits and beautified his room, but also elicited compliments (oohs and aahs!) from everyone who entered his room.' Another person, who sent us a picture of an arrangement that you designed and delivered from us, commented, 'absolutely stunning!' Our thanks to your friendly and very creative staff; we appreciate all that you do!"  — DIANE F., PINNACLE HEALTH SYSTEM 
"On behalf of the membership of West Shore Country Club, thank you for the wonderful holiday decorations. Your efforts have drawn rave reviews from our members and guests."  — RALPH K.